Pitman Family Connection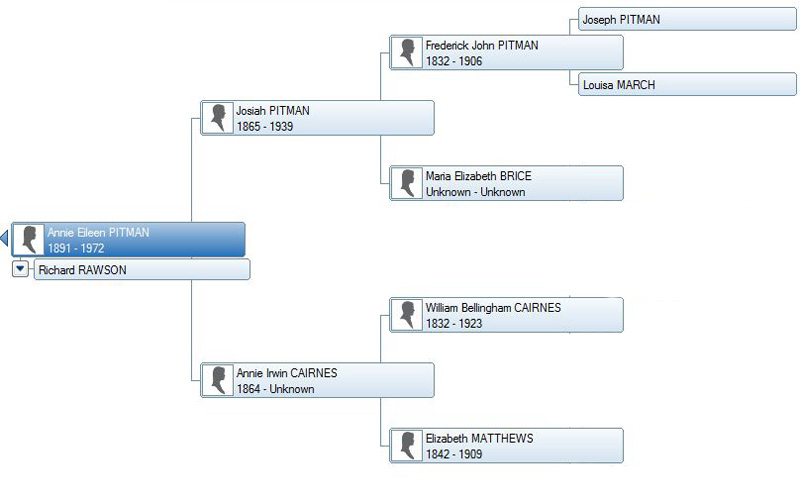 The connection of the Pitman family to the Rawson family is explained by this chart.
Joseph Pitman (b 1807)
Joseph Pitman was born, I think, in Milborne Port, a small village in Somerset, England in 1807. His parents were William Pitman and Ann Scott, and he was the third of nine children in the family. He married Louisa March in 1828 and they had five children. I know nothing more about Louisa.
The first child, William Henry Pitman was born in 1829 and is shown in the photograph on the right. He came to Melbourne on the "Holyrood" in 1852, marrying Mary Bentley in 1854. They had five children, and their first born, Henry William (b 1855), married and had a large family.
The fourth child, Frederick John Pitman, born in 1832, came to the Colony of Victoria in 1857.
These charts from Patricia Hunt will provide more information about the Pitman family than is available in my data base.
Joseph & Louisa's first child
William Henry Pitman (b 1829)
Josiah Pitman (b abt 1865)
The fifth child of Reverend Frederick John Pitman and Maria Elizabeth Brice, Josiah was a saddler in the Murray River town of Yarrawonga. He was born in what then may still have been known as Forest Creek, but is now Chewton. He married Annie Irwin Cairnes (b 1864) in September 1889 in Yarrawonga.
There were three other children of whom the only other information I have is that Jessie Cairnes Pitman (b 1895) probably married a man with the surname Ward, and that they may have had a daughter named Patricia. There are some photos of Jessie in the gallery below, and of their third child, Frederick William Robert Pitman (b 1897), but of the fourth child, Josiah Arthur Pitman (b 1901) I have nothing.
If you want to have some idea of the conditions for the people of that time, here is a photo of
Forest Creek
taken in 1858.
This stunning early photograph of Annie
and Josiah
was provided by
This email address is being protected from spambots. You need JavaScript enabled to view it.
.
Frederick John Pitman (b 1832)
Frederick John Pitman
was born in England in 1832 according to my first records, although his son, RW Pitman (see link below) says it was 1835. He married Maria Elizabeth Brice in 1856, and it seems they came out to Australia in 1857. He became Congregational Minister in Yarrawonga in 1877 after establishing Churches at Chewton, Forest Hill and Sutton Grange in the Castlemaine area, where he was a Minister for 20 years. While at Yarrawonga he established churches at Yarrawonga and Yarrawonga South, Bundalong and Wilby.
He was elected as a member of the Board of Advice (whatever that was) for the Yarrawonga District in December 1893.
This
document
contains an obituary from the Yarrawonga Mercury, and a speech about FJ Pitman's life by one of his sons, RW Pitman (b 1874). You will see that there are inconsistencies between his son's statements and the obituary.
Information about his fifth child,
Josiah (b 1865)
is here, and about some of the other children is
here
.
In April 2013 I obtained a number of photos of members of the Pitman family from Patricia Hunt. Some of those photos are in the gallery below and some on this
page
. Patricia also provided a number of documents, and this
one
outlines the Reverend's career and family life.
FJ Pitman & Sons
Reverend FJ Pitman (b 1832)
Maria Elizabeth Brice
Annie Eileen Pitman (b 1891)
The eldest of the four children of Josiah Pitman (b 1865) and Annie Irwin Cairnes, she was born in Yarrawonga in 1891. Her parents remained living in Yarrawonga so how and why she came to Melbourne to live is unknown, but it seems it is in Melbourne that she met Richard Rawson (b 1891) whom she married in February 1913.
An
article
from a local newspaper, that describes a function to acknowledge their shift from Derrinallum to Boort, shows that she and her husband were well regarded, and involved in the management of a range of community activities.
Annie Eileen Pitman, 1930