Pannach Family Connection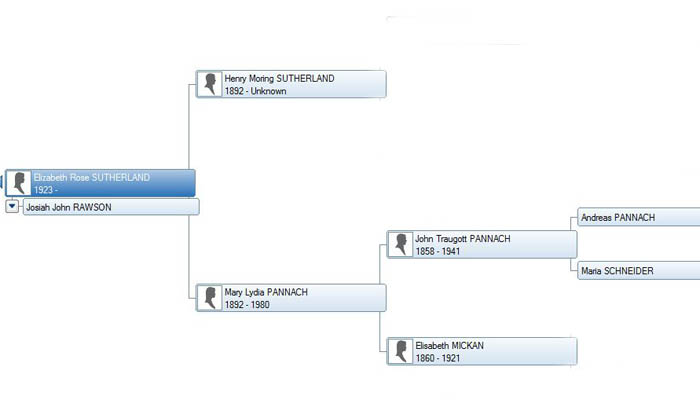 The connection of the Pannach family to the Rawson family is explained by this chart.
Andreas Pannach (b 1818)
It seems
Andreas
, a farmer, came to Australia, with his wife Maria Schneider, on the Helena, which sailed from Hamburg on 5 September 1851 and arrived at Port Adelaide, South Australia on 24 December 1851. An infant accompanied them but died at sea on 10 November. Here is information about their son,
John (Johann) Traugott Pannach (b 1858)
.
His brother, Johann, arrived in Melbourne in 1850 and the Wendish Historical Society contains the following biographical note on Johann.
"Johann Pannach (1824-64), a Wend from Rachlau, eight kilometres south-east of Bautzen, arrived in Melbourne aboard the Pribislaw in February 1850. After two years in Victoria, during which time he spent five months brickmaking with fellow Pribislaw passenger, Carl Traugott Hoehne, then cleared and grubbed timber, before spending four months on the Mt Alexander goldfields, he moved to South Australia.
Pannach recorded his emigration experiences in letters he wrote back to his family in Upper Lusatia during the early 1850s, three of which were published in Wendish newspapers there at the time. He wrote on the one hand about the difficulties of emigration, such as the voyage, life in a foreign country and coping with a new language, but on the other of the benefits of life in Australia and his great joy at meeting the newly arrived Wends who arrived aboard the Helene in December 1851. He also included advice for intending emigrants.
Pannach was at first disillusioned with Australia, but soon changed his mind, and with £250 gained from gold mining was able to pay off his debts and purchase land at Lights Pass, near Nuriootpa in the Barossa Valley. He had first travelled to South Australia after hearing of the arrival in Adelaide of the Helene. An elder brother Andreas, sister Agnes and Andreas' wife Maria arrived aboard the Helene, along with at least 90 other Wends, including Johann's future wife Anna Gude, from Doehlen. Johann's three other sisters - Magdalene, Maria and Anna - also emigrated and settled in Australia.
On 28 May 1852, while living at Lights Pass, Pannach was naturalized as a South Australian citizen. His occupation was given as farmer. Soon after, on 3 July 1852, he purchased 80 acres nearby at Ebenezer (Section 3006, Hundred of Belvidere) for £80. In December 1852, he visited Portland to see his future wife Anna, who had moved there with many of the Helene Wends, including her sister Maria and her husband Johann Mirtschin. Pannach spent Christmas there and he and Anna, who was then aged 23, were married at Bethany, South Australia on 12 April 1853. Anna, born 1829, was the daughter of Adam and Agnes (nee Deutschmann) Gude.
In August 1853, Pannach wrote home to Germany from Ebenezer refuting Hoehne's negative accounts of Australia. In 1855 he purchased two nearby allotments - Sections 46 and 3000 in the Hundred of Belvidere - both 77 acres. Soon after he sold Section 3006 to Johann Zwar and Andreas Kleinig for £400. In 1859, he paid £400 for 80 acres at Angas Park (Section 55, Hundred of Mooroomoo) near Angaston and moved his family there.
Johann Pannach and his wife had seven children, although only four survived infancy. He died of bowel inflammation at Angas Park on 26 October 1864, aged 39. He was buried in the Immanuel Lutheran Cemetery, Lights Pass. Anna, who did not remarry, died on 16 July 1893 aged 63 and was buried with Johann.
Source: From Hamburg to Hobsons Bay (1999)"
---
Mary Lydia Pannach (b 1892)
What do we know of
Mary Lydia Pannach
? Well I came to know her well but, as usual, when it was all too late. I wonder what I might have known had I asked her. She lived with my family on and off for some considerable periods when I was young, and I got to see that she was a determined person with a really good heart. She was extraordinarily skilful at things like sewing, knitting and crocheting. Many times I went to tennis in shorts that she had made, and classy shorts they were believe me.
Despite all this, there is a sadness here that cannot be dealt with because the history of her life is very much unexplained. I do have a photograph of her with my mother when my mother was very young (see gallery below), but the sadness continues because her face is turned away from the camera. What did she look like as a young woman? I wish I knew.
Mary Lydia Pannach, 1971
Johann Traugott Pannach (b 1858)
He was a farmer born in South Australia who moved first to Walla Walla in NSW, and then with his wife and their first four children to the Linthorpe District of Queensland near Mount Tyson. In Mt Tyson he owned a dairy farm. His wife,
Elisabeth Mickan
, was born in the same town in South Australia as John. Their third child was
Mary Lydia
born in 1892. Their last child,
Esther Theodora
, was born in 1904.
Elizabeth Mickan
John Traugott Pannach
I hold a book called "From Cortnitz to South Australia - The Mickan Story" published in 1983. You will find here the pages from this book that provide information on the families of the children of John and Elisabeth.
Information on his parents is
here
.
The few photos I have that relate to the Pannach and Mickan families, apart from those of Mary Lydia Pannach, are in the gallery below.
Here are some
notes
that explain the movement of German immigrant families from South Australia to Walla Walla and other places.
Esther Theodora Pannach (b 1904)
She married John George Willson in 1926 and they had three children.
Esther Theodora Pannach, 1974
This gallery is a repeat of the gallery on the page of Johann Traugott Pannach (b 1858).