William Bellingham Cairnes (b 1832)
In his own words he was the "Youngest ...... son of Captain Montgomery CAIRNES, late 60th Rifles, and 81st Regiment, Dublin, Ireland, and of Theresa, 4th and youngest daughter of William HOLMES, M.D., Quebec, Canada."
William Bellingham Cairnes was born in Dublin in 1832. He married Elizabeth Matthews at Castlemaine, Victoria, Australia, when she was 15 years old.
In 1862 it looks like he was an undertaker in Castlemaine, (the source for this is Trove Newspaper Clippings), and insolvent, for a time at least. He then became "one of the principal merchants in that Colony (ie Victoria) and a magistrate of both Victoria and New South Wales."
His Will is dated 14 November 1919, and at the time of preparation he had moved from Yarrawonga to Geelong, where he was a Timber Merchant. In Geelong he lived at 436 Ryrie Street. PROV records say he died on 19 March 1923 but my other information has him dying on 15 March 1922. It seems that his wife Elizabeth was ill for a long time (little wonder - she had 15 children) and the move to Geelong was to get her near the sea air, but they did move back to Yarrawonga before she died. Maybe William died in Yarrawonga as well.
He was a Trustee of the Moama Common in 1877, and a Trustee of the Wesleyan part of the general cemetery at Moama in 1879. (Trove Newspaper Clippings).
The fifth child of William and Elizabeth was Annie Irwin Cairnes (b 1864).
Their daughter Theresa Holmes Cairnes married John Maxwell McKay on 22 May 1883, in Yarrawonga. Information on Alan Bellingham Cairnes (b 1880) (the 13th child) appears in the next article.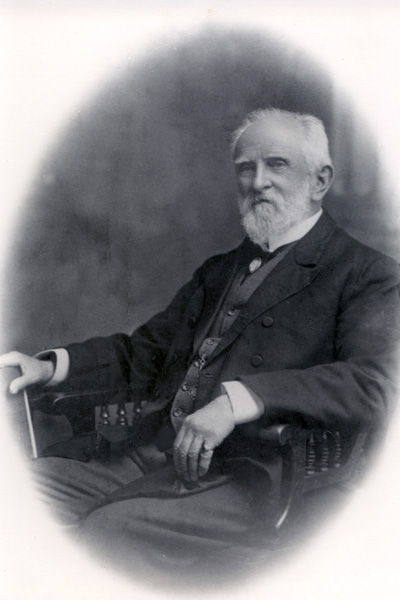 The Following Tribute to WB Cairnes Appears in the Trove Newspaper Clippings of 20 March 1923.
"By the death of Mr William Bellingham Cairnes, which occurred at Burreel private hospital, Elsternwick, on Sunday, Yarrawonga has lost one of its oldest pioneers and most interesting personalities. Mr Cairnes, who was born in Dublin in 1832, came to Victoria in 1854. Two years later he married Elizabeth, the only child of Robert and Mary Matthews, of Leicester, England. Mrs Cairnes died in 1909. Mr Cairnes conducted a timber and ironmongery business in Yarrawonga, where he was one of the founders of the Masonic lodge. As a young man he was regarded as one of the best marksmen in Victoria, and for many years was president of the Yarrawonga Rifle Club, which he founded. In 1878 he was appointed a justice of the peace in New South Wales, and four years later he received a similar appointment in Victoria. For many years he held the position of official assignee at Yarrawonga, and was also Government commissioner on the Shire of Yarrawonga Waterworks Trust. Mr Cairnes was the father of eight daughters and seven sons. The funeral will take place at Yarrawonga today, Messrs Raybould, of Malvern, having charge of the burial arrangements."