J Elliott (b 1700), JE Cairnes (b 1745) & Montgomery Cairnes (b 1789)
The first "Cairnes" in my records was not born "Cairnes". There is a book (see Cairnes Documents), completed in 1906 by HC Lawlor, that provides a very comprehensive history of the Cairnes family in Ireland, and it is fascinating to read. The section on the Cairnes in Tyrone is directly related to the Cairnes' who came to Australia.
The most interesting thing for me is that the father of John Elliott Cairnes (b 1745), started life as John Elliot (b 1700) and not as a Cairnes. One of his great uncles died without a direct heir, and the great uncle designated John Elliott, grandson of his sister, as heir, but stipulated that "he and his heirs should assume the name and arms of Cairnes".
John Elliott Cairnes married Catherine Moore and they had six children with Montgomery Cairnes (b 1789) being the fourth child. Montgomery became a Captain in the 60th Rifles, and 81st Regiment stationed in Dublin, Ireland. Montgomery married Theresa Holmes in 1817 while presumably stationed in Canada. The last of their six children was William Bellingham Cairnes (b 1832). It seems his mother came to Australia after Montgomery's death, probably to live with him and his wife, Elizabeth Matthews.
By the way, for a Carlton Football Club supporter to write the name John Elliott is very very hard, believe me. The name should never again be associated with the Club.
"The King's Royal Rifle Corps was a British Army infantry regiment, originally raised in North America as the Royal Americans, and recruited from North American colonists. Later ranked as the 60th Regiment of Foot, the regiment served for more than 200 years throughout the British Empire. In 1966 the regiment became the 2nd Battalion The Royal Green Jackets, a new regiment formed by the amalgamation of three existing regiments. In 2007 the battalion was part of a larger amalgamation that formed The Rifles, where the lineage of the King's Royal Rifle Corps continues as 2nd Battalion The Rifles." See Wikipedia.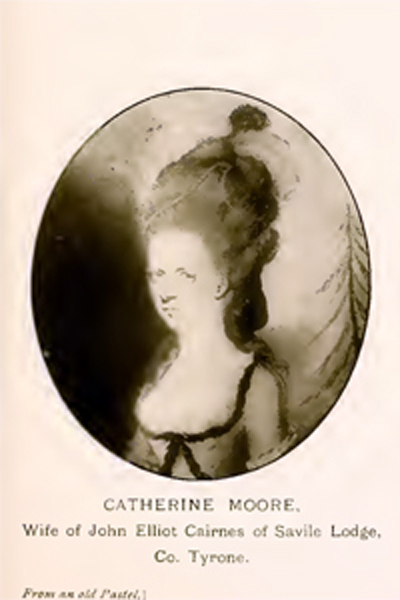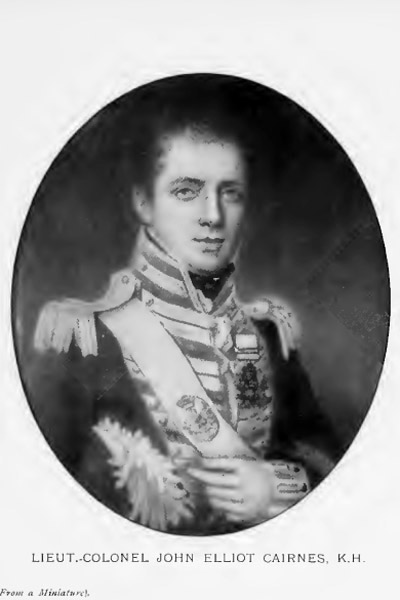 The image of Catherine Moore, wife of John Elliot Cairnes (b 1745), comes from the book by HC Lawlor, as does the image of her second child, Lt Col JE Cairnes (b 1785). The book is available via the Docs & Charts menu.