Josiah John Rawson (b 1922) & Elizabeth Rose Sutherland (b 1923)
Josiah John Rawson (b 1922)(Jack to his early Army mates, but John to family and others later on) was born in Yarrawonga, Victoria, in April 1922. From 1927 to 1938, he lived in the small Victorian country town of Derrinallum, where his father was postmaster. His schooling finished before he was 14, but he improved his educational standard significantly during the years that followed.
A shooting accident on Anzac Day, 1938, was followed by medical treatment in Melbourne. He remained in that city until 1941 when he entered the Army. He joined the AIF in 1942, during World War 2, but circumstances dictated that he would not leave Australia. He remained in the Army, leaving the Australian Regular Army as a Major in 1975. This is a summary of his military history.
He met Elizabeth Rose Sutherland, in Brisbane on VJ Day in 1945. They were married on the 2/11/1946 in Melbourne. They lived in the Melbourne suburbs of St Kilda and then Caulfield before moving to Puckapunyal in 1949, Healesville in 1956, Puckapunyal again in 1958, Rye in 1962, Papua New Guinea in 1966, Mount Waverley in 1969, Greensborough in 1976 and then Ceres, near Geelong. More details are in Mount Elephant Once Had Trees. (See below)
Elizabeth Rose Sutherland(Liz) was born on 25 January 1923 in South Brisbane, and for a while attended the Highgate Hill Primary School in Brisbane. In about 1933 she and her mother, Mary Lydia Pannach, moved to Toowoomba to live with her mother's sister (Esther Theodora Pannach) and her husband (John George Wilson). Liz never knew her father, Henry Moring Sutherland. These were the early years of the Great Depression and John Willson had lost his job, so Liz thinks the move was designed to support Esther and her husband. Certainly her mother was able to provide at least some financial support through her dressmaking ability. Initially they lived with the Willsons in a house in West Street, and then a flat in West Street when Esther and John moved to Brisbane.
Liz completed what was then seven years of primary schooling in Toowoomba before going to Toowoomba High School for three years to get her Senior Certificate. (This would be equivalent to the old Victorian Intermediate Certificate.) After High School, and at the age of about 17, she completed a year of training in secretarial work at a business college in Toowoomba. Basketball and vigoro were two sports that she played in her younger years, getting particular enjoyment from basketball. Attendance at Saturday afternoon movies were a regular feature of her childhood years, and she also attended Sunday School and the Presbyterian Church.
Her first job was secretarial work with Scanlan's Printing in Toowoomba, which was a job that she really enjoyed, before moving back to Brisbane with her mother to live again for a short time with Esther and John, before getting their own flat in Auchenflower, a Brisbane suburb. It was war time of course and Liz obtained a position with the United States Army, becoming Secretary to General Deitz, who was the base Quarter Master. Work was six days a week, but there were perks working for the Yanks such as free Coca Cola and morning and afternoon teas. Evie Hayes was a well-known US entertainer that Liz came to know during this time. She continued in this role until the end of 1944 when the Americans were scaling down their bases in Australia, and she then went to work as secretary to the boss of Remington Rand in Brisbane. She was still working with Remington Rand when she met Josiah John Rawson in Brisbane on 15 August 1945 (VJ Day).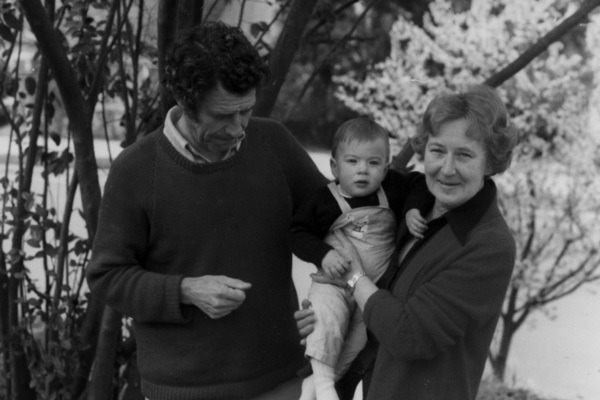 John and Elizabeth had four children:
Richard (b 1947)
John (b 1951)
Jennifer (b 1953)
Robyn (b 1955)
John wrote four books - copies via the Docs & Charts menu item.
Mount Elephant Once Had Trees (Book 1)
TopSec (Book 2)
An Ordinary Aussie Pesters The Press (Book 3)
An Atheist Assails Religion (Book 4)