The Redenbach Boys from Bavaria
See also: Descendants of Christoph Peter Redenbach (b abt 1795)
The first Redenbach in my records is Christoph Peter Redenbach who I suspect lived at or near Hinzweiler in Germany. Hinzweiler is in Bavaria, Germany, and not too far from the border with France. Christoph married Elizabetha Katherina Jung and they had four boys, Jacob, Daniel, Phillip and Karl (known as Charles from here on), all of whom arrived in Australia in 1855 on the Champion of the Seas out of Liverpool. It looks likely the boys had a sister (Karolina b 1836) who did not come to Australia. There is some thought the boys were escaping from the possibility of being conscripted for service in the Prussian War.
Once here they went looking for gold, and it seems that they spent about 20 years searching in places as far apart as Western Australia, southern NSW and Omeo and Cassilis, where they were probably mining at the time of their applications for naturalisation as Swifts Creek is mentioned in the documentation. Charles' application for naturalisation indicates he probably also spent some time in New Zealand (the relevant part of the document is not easy to decipher).
Naturalisation records for Phillip, Charles and Jacob are immediately accessible (as at 2 August 2012) from National Archives of Australia, and all three became British citizens in 1875. Interestingly, all three give slightly different dates for their arrival in the Colony of Victoria in their applications to become British citizens. It is likely that Daniel became a British citizen about the same time. A copy of Jacob's application is here.
In 1875, Jacob and Daniel selected land at Tambo Upper in Victoria, while Phillip obtained land on the Mitchell River at Eagle Point and Charles at Wy Yung. Jacob settled on a property he called Rheinhoff and married Alexina Geraldine Boyd in 1878. The property stayed in the family's hands until about 2004. Brother Daniel owned the property immediately to the north.
After arriving in Gippsland the four brothers formed a band which "played at many public gatherings", and the following quote comes from an internet site concerning the links between the Nethercote and Redenbach families.
"The first recorded band in the history of Bairnsdale was a brass band. It was called 'Redenbach's German Brass Band' led by Phillip Redenbach, a hop grower who lived in Bairnsdale. In the 1870's and the 1880's Redenbach's band became very popular, performing at many functions around the district. Every New Year's Day the band marched around the then Friendly Societies Ground which is now known as West Bairnsdale Football Oval."
Jacob and Alexina had eight children with Adolph Redenbach being born in 1887. Adolph married Francis Lilburn Commins on 29 July 1914 and they had three boys before Francis died in July 1924, just two years after her last son, Raymond Frederick Redenbach (Fred) was born on 20 July 1922. Fred married Jean Alice Wilton on 24 November 1945.
Here are some more notes about the Redenbach family.
There was a Redenbach reunion in Bairnsdale in 1988, and a newspaper record of the reunion is available.
A photograph of the "Bairnsdale Pioneers 1910" held by Monash University shows Jacob and Daniel Redenbach and their wives, and many other residents of the district at that time.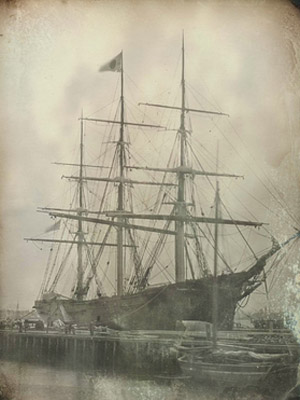 Champion of the Seas was the second large clipper ship destined for the Liverpool, England - Melbourne, Australia passenger service. Champion was ordered by James Baines of the Black Ball Line from Donald McKay. She was launched 19 April 1854 and was abandoned 3 January 1877, off Cape Horn.
Champion of the Seas set a record for the fastest day's run in 24 hours: 465 nautical miles (861 km) noon to noon 10-11 December 1854 under the command of Captain Alexander Newlands. This record stood until August 1984, nearly 130 years."
The information above comes from Wikipedia, which also indicates that this ship came to Melbourne only once in 1855. If the four Redenbach brothers were on the ship, and disembarked in Melbourne, there is no record of their journey in the data held by the Public Records Office of Victoria.